Looking for Server Management Specialists? Take a step ahead and try our services and Connect to our 24×7 Live chat to get technical assistance on your server related queries at https://hostechsupport.com or you can simply shoot an email to support@hostechsupport.com
Our Linux/Server Management services include 24×7 Remote Technical Support, Server Administration, Server Management, Server hardening, 3rd party software installations, 24×7 Server Monitoring, Server migrations, Backup configurations and more.
Cpanel Server Management – Direct Admin Services: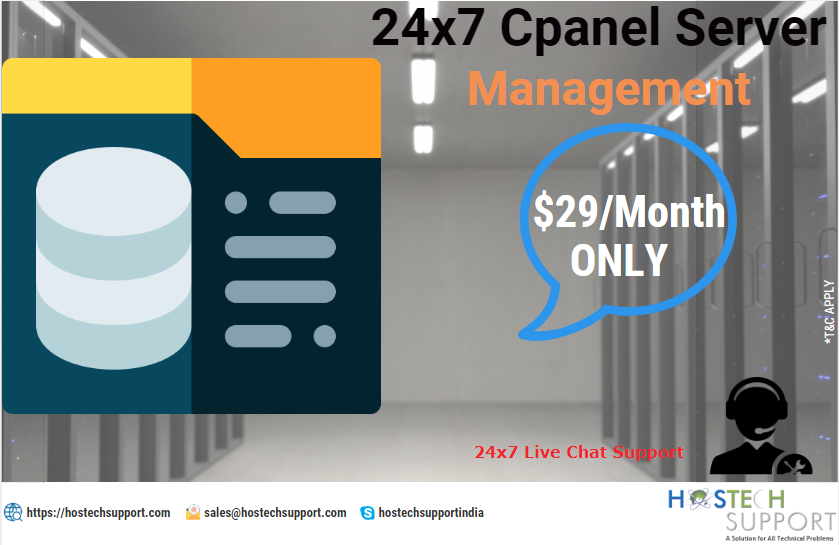 Initial Server installation & configuration management
Let's Encrypt / SSL installation and configuration
SMTP/POP/IMAP (Exim + Courier-IMAP/dovecot) server configure and optimization
FTP Server setup (pure-ftpd / pro-ftpd).
Google Apps Setup (DNS)
Optimize and secure Apache (HTTP) server
Software installations.
Increase memory efficiency
Hard disk performance tweaking
MySQL database server optimization
Backup Configuration and Audit Backup
Secure SSH
Anti-malware & anti-Virus installation
Brute force detection Installation
Control access to services by IP Address
Monitor WHM server
Secure Apache
Mod Security Installation
Kernel Patching.
Schedule malware and virus scanning
Restrict system's compilers
Install and configure csf a firewall
Regular server updates
Find out more: https://www.hostechsupport.com or directly connect to our 24×7 Live chat support for our Support services.
HostechSupport
Linux/Windows Server Administration
Server Management, Server Optimization, Server Monitoring, Server Migration
Cpanel Server Management, Cpanel Direct Admin
Apache Configuration, Apache Installations, and Upgrdation
Ngnix Installation and Upgrades